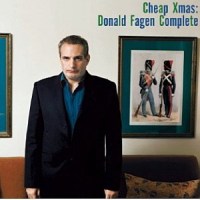 http://popmarket.ru/?page=view/flypage&product_id=310333&
Исполнитель: Donald Fagen
Альбом: Cheap Xmas: Donald Fagen Complete (Boxset)
Год: 20.10.2017
Страна исполнителя: Америка
Формат носителя: 5CD
Лэйбл: Warner Music
Номер в каталоге: PM 10-11437
Страна производитель: Германия
Описание
Дональд Фейген - американский музыкант, композитор и поэт-песенник. Наиболее известен как со-основатель (вместе с Уолтером Бекером) и вокалист джаз-роковой группы 70-х годов Steely Dan.
Представляем "Cheap Xmas: Donald Fagen Complete" - коллекцию сольных альбомов музыканта. Сюда вошли альбомы The Nightfly, Kamakiriad, Morph the Cat, Sunken Condos и 10 Extras - 10-трековая коллекция раритетов и ауттеков). Ранее коллекция выходила только в цифровом формате в 2012 году.
Релиз 5-дискового издания намечен на 20 октября, а издание на 7-ми виниловых пластинках выйдет в начале декабря.
Трэклист
Disc 1: The Nightfly
I.G.Y.
Green Flower Street
Ruby Baby
Maxine
New Frontier
The Nightfly
The Goodbye Look
Walk Between Raindrops
Disc 2: Kamakiriad
Trans-Island Skyway
Countermoon
Springtime
Snowbound
Tomorrow's Girls
Florida Room
On the Dunes
Teahouse on the Tracks
Disc 3: Morph the Cat
Morph the Cat
H Gang
What I Do
Brite Nitegown
The Great Pagoda of Funn
Security Joan
The Night Belongs to Mona
Mary Shut the Garden Door
Morph the Cat (Reprise)
Disc 4: Sunken Condos
Slinky Thing
I'm Not the Same Without You
Memorabilia
Weather in My Head
The New Breed
Out of the Ghetto
Miss Marlene
Good Stuff
Planet D'Rhonda
Disc 5: 10 Extras
Rhymes (from Nightfly Trilogy box set)
Big Noise New York (B-side to Reprise single W-0196 (U.K.), 1993)
True Companion (from Heavy Metal: Music from the Motion Picture – Asylum)
Confide in Me (B-side to Reprise single 7-18502, 1993)
Blue Lou (from Nightfly Trilogy box set – Reprise 43325, 2007)
Shanghai Confidential (B-side to Warner Bros. single 7-27972, 1988)
Green Flower Street (Live at the Beacon) (from Nightfly Trilogy box set – Reprise, 2007)
Century's End (from Bright Lights, Big City: Original Motion Picture Soundtrack – Warner Bros., 1988)
Hank's Pad (Live) (from Nightfly Trilogy box set – Reprise, 2007)
Viva Rock 'N' Roll (Live) (from Nightfly Trilogy box set – Reprise, 2007)